About the Creator & Founder...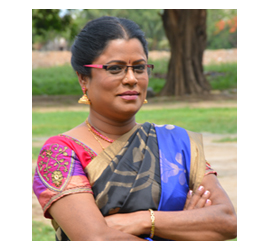 The BrainCarve programme is the brainchild of Dr.B.Parameswari, Masters in Physics and Information Studies, Madurai Kamaraj University. One of the few in the field, she holds a Doctorate in Information Studies and has written research papers in ABACUS. She was a guiding force for students of MPhil and PhD in Universities for almost ten years. Dr. B Parameswari began her career at Madurai Kamaraj University as a Lecturer in the Department of Information Studies. A PGDCA and Oracle Certified Professional from the USA, She has worked with several top MNCs in the field of ABACUS and other techniques. She has written quite a number of children's books and is still a curriculum developer for schools.
She has several journal publications to her credit, both in print and online media. Her journal has been published in INFORMATION PHILOSOPHY foreign journals. She has conducted seminars and has attended International conferences on Information Technology. She has been an active member of WAMMA Organization.
She has travelled to different countries and has had exposure to the education scenarios in different parts of the world, which further fuelled her passion for education and children. A deeper understanding of Western and Indian traditional education helped her pioneer the unique BrainCarve program which is one of the best integrated programs for whole brain development in India. With a vision to spread whole brain development training across the world, the BrainCarve Professional Training Programs cater to a broad range of audience ranging from kids to adults and help them maximize performance and productivity at every level.